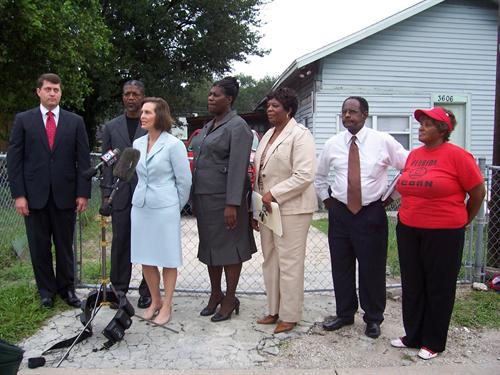 U.S. Representative Kathy Castor (D-FL)
led the fight
for passage of the
National Affordable Housing Trust Fund of 2007.
The landmark affordable housing trust fund established under this bill will provide over 1.5 million new affordable homes for hardworking families across America over the next decade. The bipartisan measure will focus on the construction, rehabilitation, and preservation of affordable housing. It will pool monies to target housing for families with the greatest economic need.
Photo:
How to Avoid Foreclosure Press Conference[ 9/17/2007]
Congresswoman Kathy Castor addresses the media while other speakers listen in. From left to right: Douglas I. McCree, First Housing, Askia M. Aquil, St. Petersburg Neighborhood Housing Services, Congresswoman Kathy Castor, homeowner Isaline Wyatte, Toni Watts, CDC of Tampa, Earl Kagler, CDC of Tampa, Jamie Ewing, ACORN.